This article was contributed by Elena Owyong.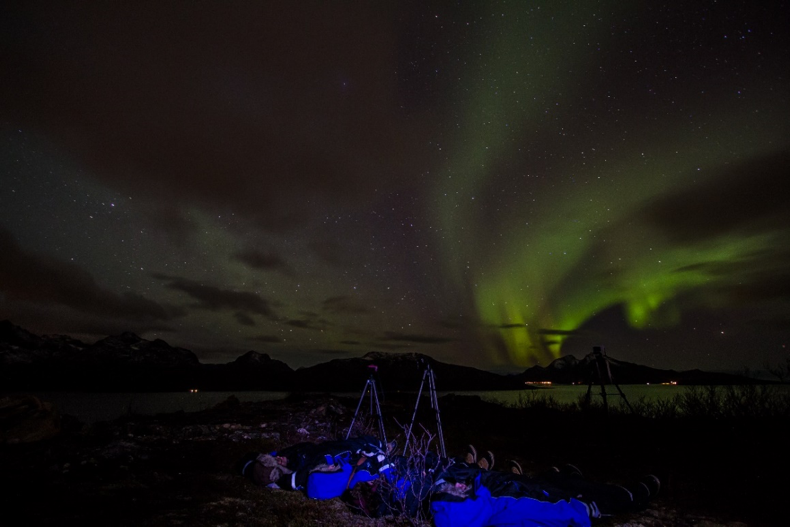 As a young girl, I have always been mesmerised by the Northern Lights — dazzling displays of green-yellow lights dancing across the night sky. When I read that this phenomenon known as the aurora borealis was appearing lesser and lesser due to plunging solar activity, I decided that it is now or never —I had to catch a glimpse of it before it disappears for good.
Being typical kiasu Singaporeans who were afraid of missing out on something good, my friends and I booked Northern Lights tours on all five days of our stay in Tromsø to make sure that this elusive phenomenon doesn't escape us.
Little did we know, that it was only on our last night, as we bundled up in layers of clothing and waited patiently outside our Airbnb apartment in sub-zero temperatures for our guide John to arrive, that we would finally achieve what we came here to do.
Before the tour began, John drove us to a huge container warehouse filled with winter wear to gear up. My petite frame meant that donning even the smallest suit there was a challenge. In the end, I had to roll up my sleeves and pants in order to walk. But even this wardrobe issue will not deter me from accomplishing my goal.
We hopped back into John's multi-purpose vehicle with our three other tour mates to kickstart the journey. Then based on the weather, aurora forecast and positioning of the clouds, John brought us to where we will most likely experience the phenomenon—at Skulsfjord.
Northern Lights and shooting stars at Skulsfjord
When we arrived, John distributed food supplies and equipment to everyone to help carry up the fjord. It was totally pitch dark at this time. Armed with our wearable headlight as the only source of illumination, our tedious climb to the peak of Skulsfjord began.
The weight of the suit, boots and supplies made the uphill climb a feat. But to our horror (and embarrassment), the rest of our tour mates were extremely fit and moved up speedily, leaving the four of us lagging behind. It was not long before we found ourselves lost in the darkness.
Thankfully, John did come back to find us (we had our irrational doubts), and after a 45-minute climb that had us grabbing random branches and grass to claw our way up, we finally reached the peak of Skulsfjord at around midnight. It was then, after having waited for around an hour, before we saw the light.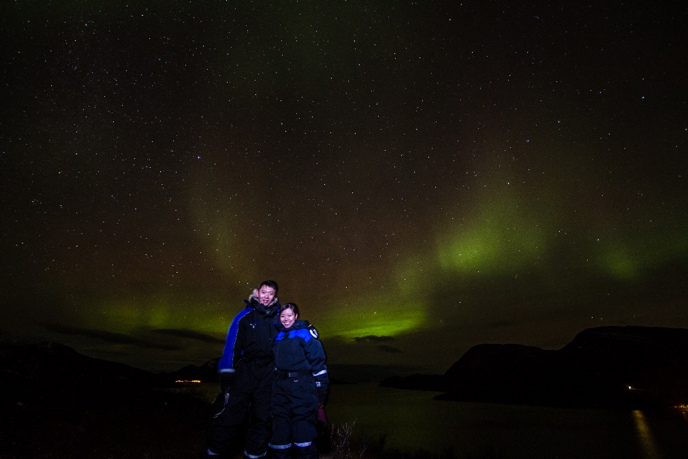 Against a backdrop of twinkling stars, the long-awaited greenish yellow and pink lights danced rapidly across the sky beautifully at random. Everyone jumped into action, eagerly snapping away with their cameras. John, on the other hand, was nonchalant. While we were busy taking in the moment, he was busy setting up a fire and preparing for us mugs of hot chocolate to tide through the cold night.
Watching the aurora borealis from atop the fjord was amazing. From this vantage point, we could see the silhouettes of the neighbouring fjords amidst the green, yellow and pink waves of light. It was awe-inspiring to witness this wonder of nature.
At the same time, it also made us lament the fleetingness of such beauty—one blink and you will have missed a variation of this ever-changing lights display.
After having our fill of Instagrammable photos, we laid on the ground, drinking in the marvellous sight of Mother Nature. We even caught sight of a few shooting stars, which made the tedious climb up all the more worthwhile. I simply couldn't have asked for more and I'm thoroughly satisfied that the memory of this journey will remain with me for the rest of my life.
Travelling with a peace of mind
We could only enjoy our trip fully because we bought travel insurance. The New Straits Times previously reported that most Malaysians opt out of buying travel insurance. However, this is dangerous as many things can happen when you are overseas – flight delay, loss of luggage, falling sick during the trip or even fall prey to snatch thieves etc. Recently, there have been many instances of passengers being stranded at various airports in different countries. As such, in order to fully enjoy your travel experience, it is paramount to buy travel insurance.
FatBerry offers an easy to use chatbot platform to compare the different insurance plans so you can get the cheapest travel insurance deal!