Good news! FatBerry raised RM2.5 million (approx. US$600,000) new funding from equity crowdfunding platform, pitchIN to carry out FatBerry's expansion and product development plans!
After two years of trial and preparation, our insurtech platform was commercially launched in April 2020 during the beginning of the pandemic. Fatberry has transformed the way consumers purchase insurance products in Malaysia via our insurance digital marketplace that allows customers to compare, customise and buy insurance products online instantly and easily. 
Pandemic Driven Explosive Growth 
With the pandemic and lockdown situation, consumers resolve to change their purchasing behaviour – many adopted online shopping almost exclusively for all their daily needs. This accelerated online purchasing behaviour has spurred explosive growth in demand for purchasing insurance online. 
As FatBerry is the most comprehensive insurance marketplace online for the Malaysian market, it is undoubtedly that FatBerry has experienced an impressive continuous monthly growth of 100% from June 2020 to February 2021.
Between June 2020 to February 2021, Fatberry's sales have grown 6,800%. It is currently transacting 7 figure sales revenue for its platform on a monthly basis.
Funding to Fuel Further Growth 
"Post-FatBerry raised, our next step is to add more talent to our team, further develop our platform and product offering, as well as scale up our marketing and branding efforts. We will continue in our mission to help more Malaysians purchase insurance online with ease from the reliable and trustworthy insurtech platform of ours," said FatBerry CEO John Tan. 
Malaysian consumers have now recognised FatBerry as the easiest and fastest insurtech platform that provides extensive customer care to make sure purchasing insurance online is a positive experience for consumers.
Our platform currently represents 11 Bank Negara Malaysia licensed insurers, facilitating largely transactions involving car insurance. With Malaysia having more than 10 million registered cars on the road, Car Insurance is the largest segment of the general insurance market of Malaysia by sales revenue.
Launch of motorcycle insurance to drive further growth
Earlier in April, we had also launched motorcycle insurance on our platform.
"Motorcycles are the most popular vehicle in Malaysia, making up almost half of the total number of vehicles on the road. Hence, it is a key expansion market for FatBerry," said FatBerry's Head of Marketing, Debbie Ang. 
Our platform expects the motorcycle insurance products to do well on its platform as the segment of this market is almost untouched, as traditional insurance agents would usually focus on high-value insurance products instead. 
Strategic Pre-Series A Funding Round 
The Pre-series A funding round was led by strategic investor Stockholm-based publicly traded venture builder Abelco Investment Group AB. Other investors who participated include ASX-listed Fatfish Group Limited and notable angel investors from Malaysia and Singapore.
*The content provided is for informational purposes only. FatBerry makes no representations as to the accuracy or completeness of any information on this site or found by following any link on this site. Should you require more information on our products, please refer to fatberry.com or contact us.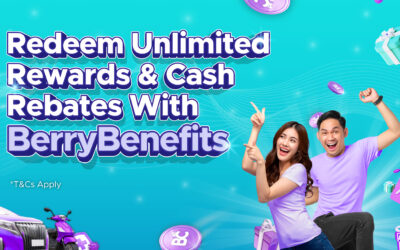 Insurance is vital for your well-being and vehicle. This is why Fatberry will be rewarding you for all your purchases with us! Our brand new rewards...
read more