Introducing our Creative Director, Fareed Saharudin! Fareed is a Universiti Teknologi MARA (UiTM) graduate where he studied Graphic Design & Digital Multimedia. He's two years into his career and is already gaining a fantastic reputation in the creative field. Having Fareed join the Fatberry.com team is an honour, with him taking on a bigger helm of responsibility for Fatberry Thailand.
Here's what he has to say about working with Fatberry:
Q: What do you think is the best thing about working with Fatberry?
Fareed: The best thing about working with Fatberry is my team's creativity and how I'm given creative freedom in the work that I do. It's both an honour and extremely humbling to be given this kind of creative freedom to express myself through my work.
Last but not least, I love how we always work as a team at Fatberry, no matter the challenge.
Q: How would you describe Fatberry with 3 words to those who are unfamiliar with Fatberry?
Fareed: Fast, efficient, and easy! Fatberry is a growing company, and even now, we're considered one of the top online insurance platforms in Malaysia! Our customer service and sales team are constantly working extremely hard to deliver quotations to our customers and answer any questions.
Q: How do you think Fatberry is making you grow as an individual and as a professional?
Fareed: As I mentioned earlier, the trust and freedom given to me at Fatberry is helping me to grow and achieve my career goals. Through this creative freedom, I'm able to explore different options to see what works and what doesn't, and all of this helps us achieve Fatberry's goals as a team. Every day at Fatberry is a new challenge for me, and it's definitely helping me grow both personally and professionally. 
Q: How would you rate the work flexibility offered by Fatberry? On a scale of 1-5, 1 being very unsatisfactory and 5 being very satisfactory.
Fareed: No doubt,  a 5/5. I am very satisfied with the flexibility offered by the company. Everything is pretty much flexible, from sharing ideas, time, and working hours.
Q: How would you rate the work-life balance in working with Fatberry?
Fareed: The work-life balance is amazing for sure. Working at Fatberry, I have no issues balancing my personal and professional life. Of course, there are days when the workload is on the heavier side, but even on those busy days, the work stays in the office after I leave and I'm free to go do other things without being disturbed during my personal time.
Q: Any thoughts on FatBerry's workspace and work culture? How would you rate it?
Fareed: Fatberry's workspace and work culture are great, so it's definitely a 5/5. The free-flow snacks and drinks at the office are perks most of us in the office enjoy. The work culture is also admirable since we all work as a team, and the diversity at work is interesting as well.
Q: Final question, how is the teamwork environment at Fatberry?
Fareed: As mentioned earlier, teamwork is one of the best things about working with Fatberry. It's always nice and important to have good team members since there's only so much one can do, and I've been super blessed with the people on my team.
*The content provided is for informational purposes only. FatBerry makes no representations as to the accuracy or completeness of any information on this site or found by following any link on this site. Should you require more information on our products, please refer to fatberry.com or contact us.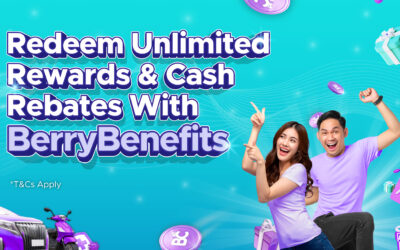 Insurance is vital for your well-being and vehicle. This is why Fatberry will be rewarding you for all your purchases with us! Our brand new rewards...
read more