Have you ever been stressed out about paying and renewing your car or motorcycle insurance every year? Well, it is a necessary step to own a vehicle in Malaysia. You could be fined up to RM1,000 or jailed up to 3 months or both if you don't own car and motor insurance (under Road Transport Act 1987). 
Don't fret, there are actually many ways you could take to save money while insuring your vehicle!
Tip #1: Insure your vehicle according to the Market Value.
First up, insure your car according to the market value at the time. By doing this, you'll only spend a reasonable amount of money. You can also go for the agreed value which is an amount that has been agreed by the insurance company – based on your car's model and year.
However, there's a chance for you to either over-insure or under-insure. Make sure you do your research on this.
Tip #2: Choose the right insurance coverage and add-ons.
Another tip to add to the list, is to pick which insurance coverage will benefit you the most; such as the windscreen coverage. It's easy, choose one that's most practical for you.
However, make sure to be practical and reasonable as well. Don't regret later in the future, trying to save your pocket now. You might be paying a lot more, in the future. 
Tip #3: Be the best driver you could be, and take care of your vehicle!
Did you know that your driving records will also affect the insurance price? Yes, bad drivers or riders who frequently get into road accidents pay much more for insurance than safe drivers! Insurance companies will see you as a high-risk driver so you're likely to pay more. So, keep in mind to always be cautious on the road.
On the flip side, if you're a good driver with clean records every year, you may get yourself a good discount. You can get up to 55% discount! The rebate is called No Claim Discount (NCD) that's meant to incentivise good drivers!
While it can be tempting to modify your car, you should be aware that any changes made to the vehicle can increase the price of your insurance. A car is considered modified when you replace, add, or remove a vehicle's parts that are different to the manufacturer's original specifications.
Leaving your vehicle as it is would probably save you a little more on your insurance renewal.
Tip #4: Make sure you check the car insurance and road tax rate before you purchase a new car.
Next up, if you're planning to buy a new car, it is advised to compare the car insurance rates for the models you're considering.
Your insurance premium will likely be higher if you own an expensive car from a high-end model. Luxury cars come with high-class features like carbon fibre, hydrophobic window, auto lane keeping, and other specialised specifications. These features will cost you a fortune to repair in the event of loss or damage.
Tip #5: Stick to one insurance brand.
Another way to save money on vehicle insurance would be to maintain more than one kind of policy with one insurance company, then you can get significant savings.
If you purchase renters, homeowners, or life insurance, it is possible to get a multiple-policy discount, which reduces your premiums on both policies.
Kill two birds with one stone! On top of that, you may also get a reduction by insuring more than one vehicle with the same insurance company.
Tip #6: Compare your options before you purchase!
You can now renew and purchase your insurance online. Not to mention, there are different sites that will allow you to compare the prices between insurance companies as well.
So, before you decide to renew your insurance, make sure to check every possible option. That said, when it comes to comparing, it's not just about the price but also what's in the package as well.
Ask yourself whether the insurance that you're buying is worth the price and cost-efficient for your vehicle. 
Tip #7: PRO TIP: Save more with the best deals on Fatberry.com!
Thankfully, Fatberry.com offers the best insurance deals online for you to renew both car and motorcycle insurance!
Right now, you'll be able to enjoy a RM15 rebate for your motorcycle insurance with promo code: RIDER15 when you check out, while stock lasts. 
Of course there's something for you car owners as well! Get RM120 off your car insurance with promo code: MM120 when you renew you car insurance. Only on fatberry.com!
However, do note that promo ends at 15 April 2022, that's 2 days away.. Renew today now!!
Get it with 3 easy steps!
1.  Enter your postcode, NRIC, and vehicle number to get a list of pricing.
2. Make sure your car details are correct and choose the best price for your car insurance from all of the options you're given.
3.  Finally, enter the promo codes mentioned earlier to save more. Your policy will be sent via email within the same day and your motor insurance will be sent to you within 1-2 working days.
Pay Slow Slow je lah your car and motorcycle insurance!
If you worry about paying lump sum just to renew your car insurance, you could even consider using PaySlowSlow's Buy Now, Pay Later (BNPL) service! Just select the coverage you prefer and opt for PaySlowSlow to pay over 4 month instalments with 0% interest.
It's that easy!
*The content provided is for informational purposes only. Fatberry makes no representations as to the accuracy or completeness of any information on this site or found by following any link on this site. Should you require more information on our products, please refer to fatberry.com or contact us.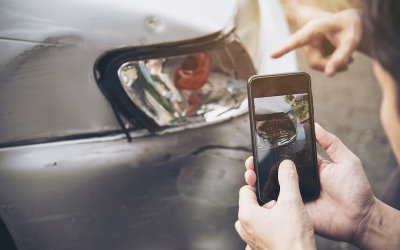 Accident Claim Insurance Road accidents can happen for a variety of reasons, including skidding, entering the opposing lane, negligence, following...
read more